Reducing roadside litter
Roadside litter is not only ruining our views but harms wildlife and costs UK taxpayers over £1 billion a year. Most people say litter makes them angry and frustrated but it can also impact our mental and physical health, as living in a littered environment can make people feel less safe in their communities and can discourage people from going outside.
At Litter Free Dorset we are keen to understand why anyone would ever throw rubbish out their car window. By understanding motivations and 'gaps in understanding' we can work with our partners to influence littering behaviour.
Love Your Verge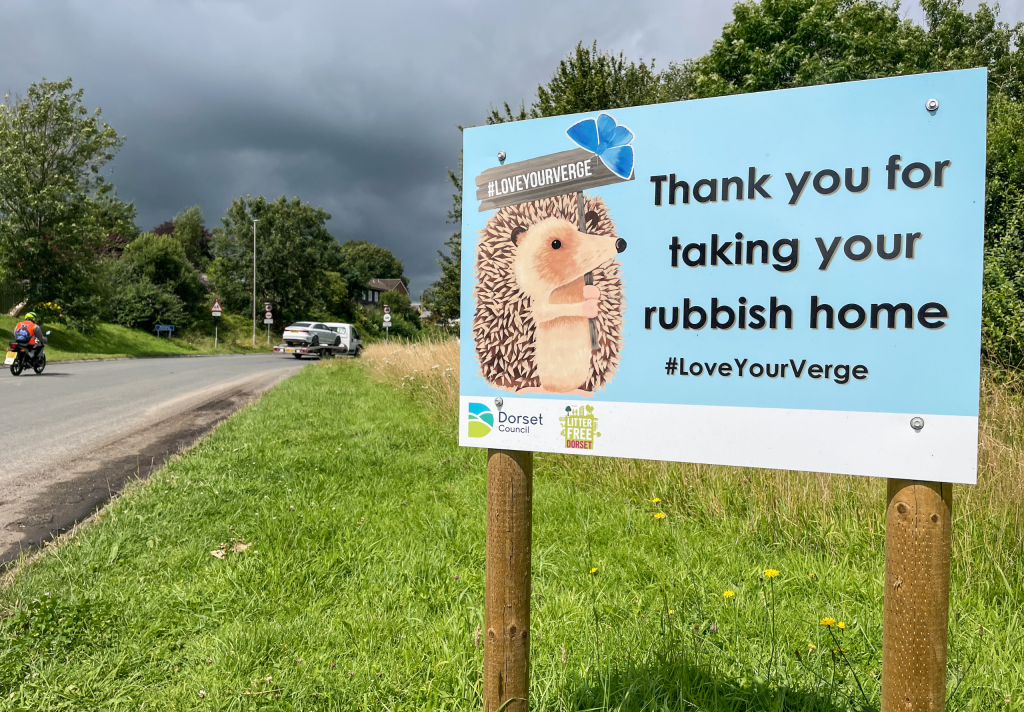 The Love Your Verge campaign is a countywide collaboration between the council's Greenspace Service and Litter Free Dorset. The verges in Dorset host a wide range of wildlife and need protecting. The campaign aims to promote the Dorset Council verge management techniques used to encourage roadside biodiversity while reducing incidents of littering in our county.
The greenspace team are embedding a 'cut and collect' system across Dorset to reduce cutting schedules and fertility of the soil. This in turn saves money as well as increases the number of wildflowers and pollinators in Dorset.
For more information visit the Dorset Council website via the link below.
Report litter thrown from a vehicle
Have you ever spotted someone littering from their car? You can now report the incident and they could be fined! The Dorset Council online reporting portal is easy to use and a great tool to keep Dorset's roads clean and tidy!
Rules came into force in April 2018 to allow local authorities to fine the registered keeper of a vehicle if litter is seen being thrown from the vehicle. This means they no longer must prove who threw the rubbish.
When making a report please provide as much information as possible.
Do you have the make, model, colour and registration number of the vehicle?
Do you remember where the incident happened?
Do you have a photo or any dash cam footage? (Footage is not necessary for a but the best form of evidence)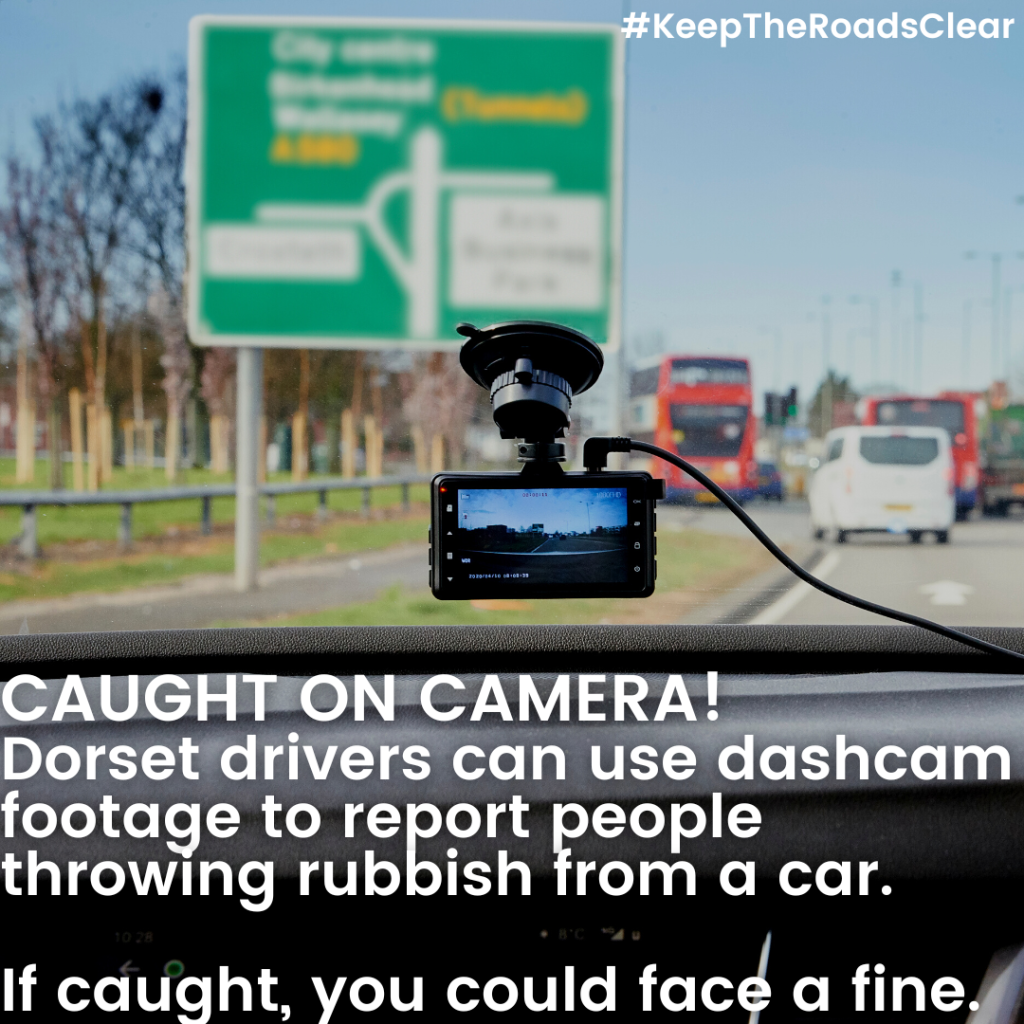 Deposit Return Scheme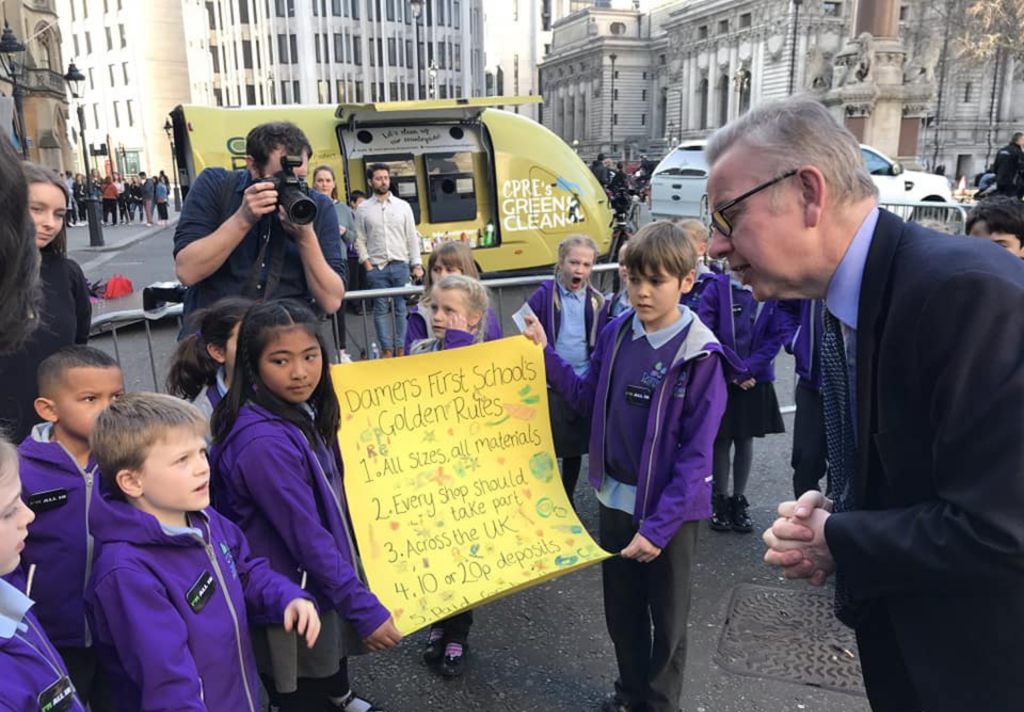 At Litter Free Dorset we believe an all-inclusive deposit return system for the UK could dramatically reduce littering behaviour. Giving materials a value will create an incentive for recycling and reduce the amount of single use items discarded as litter in our environment.
Back in 2019, we travelled up to London with children from Damers Primary School alongside Campaign To Protect Rural England to ask Michael Gove (Former Environmental Secretary) to implement an all-inclusive deposit return system (DRS) for the UK. The children presented Gove with a list of 'golden rules' for the scheme including that the DRS should be paid for by the drink manufacturers.
Groups helping clean up
At Litter Free Dorset we believe in the power of small actions creating a ripple of change. In Dorset we are blessed to have lots of groups helping to tackle roadside litter.
If you'd like to help by taking part in a litter pick get in touch!